Soles4Souls Marks 5 Years
Soles4Souls Marks 5 Years.
Jim Belshaw is the Community in Community Futures.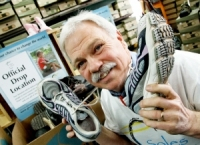 Many of you reading this article will remember a trip to Roy's Shoes in Downtown Kelowna. Whether you were finding just the right shoe for your lifestyle or trusting the shoemakers to restore a loved pair or dropping off shoes for those who need them, it would have been clear that Jim Belshaw has a heart for helping. It is all about the shoes. Five years ago Jim was instrumental in bringing Soles4Soles to Kelowna and over 400 thousand pairs of shoes later, the Soles4Souls Canada charity continues to flourish. This initiative is a vital service that is geared at helping the over 300 million kids in this world that go shoeless every day and some of those kids are right here in our community.
What some of you may not know is that Jim purchased Roy's Shoes in 2007 and started to learn the trade. As Jim was transitioning both himself and the new business, Community Futures came alongside with additional financing for growth and reorganization. "Community Futures was a lifeline" says Jim. He also learned that involvement in the community is key to business strength. http://www.roysshoes.com/
Community Futures recognizes Jim for all his behind the scenes efforts to make a difference in the lives of those less fortunate ... and operate an outstanding business.